Performance Data for Our Patent Pending Monolithic Integral Suppressed Barrel™
While our Monolithic Integral Suppressed Barrel represents a significant overall improvement over traditional suppressors, those improvements may be broken into their component parts along the following guidelines, which will be discussed at length below:
Accuracy | Sound Suppression | Recoil | Strength | Heat dispersion | Impact shift |
Serviceability | Back pressure | Baffle strikes
ACCURACY
All SWS center fire rifles are guaranteed to shoot sub minute of accuracy at 100 yards with match ammo. ( 3 shot group ) ( excludes pistol calibers )
All SWS rim fire rifles are guaranteed to shoot sub 1″ at 50 yards with match ammo. ( 3 shot groups )
( includes pistol calibers )
SOUND SUPPRESSION
The MISBs that we produce have reinvented the very notion of weapon suppression.
Here are the numbers and how they are metered. We follow MIL-STD-1474D testing procedures and use a Bruel & Kjaer 2270 that has been verified by B&K to accurately measure peak sound levels for firearms.
The numbers provided are peak sound levels at "5.4.5.1 Reference Transducer location" (aka Muzzle). (Updated Regularly)
Sound Performance | Decible Levels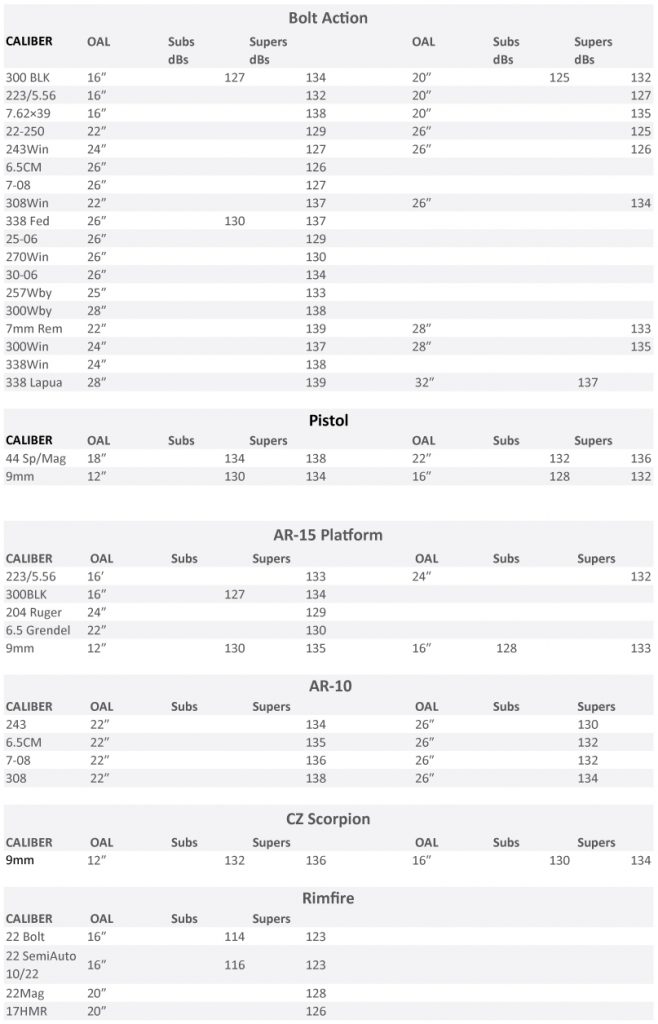 ---
RECOIL
Since the MISB redirects, traps, and slows the gases that are released when the weapon in fired, our integral suppressed barrels drastically reduce recoil in all calibers and loads. For instance, our MISB will reduce nearly 40% of a .300 Winchester Magnum's normal recoil. When installed in a .243 Winchester, our integral suppressed barrels will reduce around 30% of the normal recoil.
STRENGTH
The MISB is strong; you could hang more than 150lbs from its muzzle without damaging the barrel. In fact, the barrel itself is so strong that if the stock was bolted down and enough weight was hung from the muzzle, the screws in the stock would fail before the barrel would. In comparison, a standard thread-on suppressor would rip the threads right out of the barrel if only 100lbs of pressure were applied to its end.
HEAT DISPERSION
Standard thread-on cans are small in size and heavy in construction, which causes them to build up heat quickly and then retain that heat after the weapon has been fired.
Since the MISB has up to 3.5x more surface area than most other suppressors on the market, our integral suppression barrels simply disperse heat more efficiently. Moreover, the very design of our MISB allows the heat of the entire length of the barrel to be reduced by 55% overall.
IMPACT SHIFT
Since they change the weight of the barrel, conventional suppressors change the harmonics of the barrel once they have been attached. This would be similar to how additional weight on a tuning fork would change the tune of the fork.
Though this can be somewhat confusing, the basic idea is as follows: conventional rifles will have one impact point with the suppressor on and a different impact point with the suppressor off. The MISB avoids this problem altogether by utilizing a single piece construction, which allows it to maintain the same point of impact each and every time.
SERVICEABILITY
Fully-welded designs are the industry standard for thread-on suppressors. This design makes suppressors almost impossible to properly clean, especially once they have been submerged in mud, sand, or dirt. Since any obstruction will render suppressors useless and very dangerous, firearms and their attached suppressors must be thoroughly maintained and cleaned.
Suppressed Weapon Systems's MISB is fully serviceable in the field with no more than a single tool—some models will not require any tools at all. With that in mind, all you would need to do is remove the end cap or gas block, remove the tube, and clean our integral suppressed barrel if it became filled with debris.
Cleaning the suppressor can be done with standard tools (bore and chamber brush). In some cases, removing debris can be done without tools (the back of a spent shell casing works well). The tube may then be reinstalled with the end cap or gas block.
BACK PRESSURE
Thread-on suppressors create a greater degree of back pressure in the rifle, which can be problematic for semi-automatic rifles in particular. Since extreme back pressure will increase the speed of the bolt, the increased recoil may damage the firearm. In bolt-action rifles, this can cause chamber pressure to rise to dangerous levels that are capable of splitting casings and primers.
Suppressed Weapon Systems's MISB reduces the amount of back pressure in a suppressed semi-automatic platform. With so much available volume inside the MISB, back pressure associated with the suppression of the firearm becomes nonexistent.
CLEAN AND MAINTENANCE YOUR SWS RIFLE
BAFFLE STRIKES
Baffle strikes occur when the projectile makes contact with the suppressor. These incidents are extremely dangerous and may cause serious injury to bystanders and the shooter alike. Standard thread-on suppressors may be more susceptible to baffle strikes under any of the following circumstances:
Improper installation
Debris on the threads or crown of the rifle which may cause the misalignment
Sharp impacts on the suppressor can bend or tweak the threads causing misalignment
Alternatively, baffle strikes are a near impossibility with the Suppressed Weapon Systems MISB. Since our integral suppression barrel is of a one-piece construction, there simply is no opportunity for a baffle strike to occur under even the most adverse of circumstances.
COMPETITORS & INADEQUATE SOUND SUPPRESSION
Suppressor companies are not held to any national or international standards. As such, there are not any guidelines or regulations that determine how suppression companies manage the decibel ratings of their suppressors. Unfortunately, many companies release inaccurate or misleading dB ratings that contribute to hearing loss for shooters and bystanders alike.
At Suppressed Weapon Systems, our MISB has been thoroughly tested by third-party groups using state-of-the-art technology. Following Military Specifications (Mil-Std 1474D) for sound quality and OSA standards, Suppressed Weapon Systems has the most accurate Db ratings in the industry.
The MISB has been designed and tested to provide the best possible reduction of a firearm's sound signature. All Suppressed Weapon Systems products equipped with the MISB are safe to operate without the use of hearing protection, including indoor shooting and CQC.